Last updated: January 10, 2022
|
|
|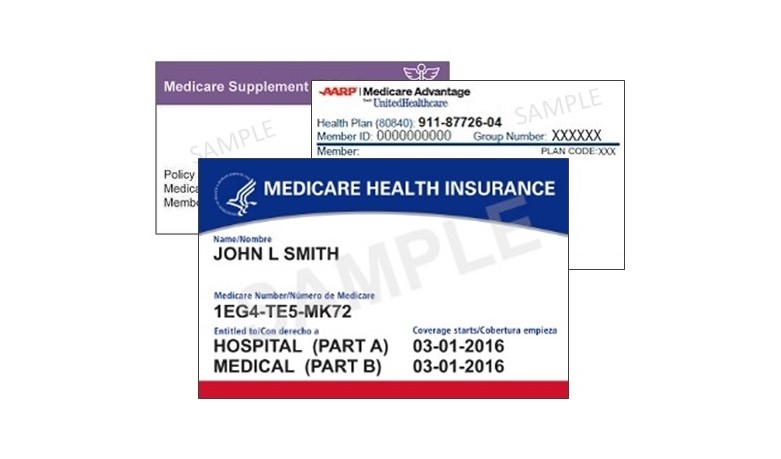 Medicare is health insurance for people 65 or older and other folks with certain conditions. But let's face it, Medicare can be confusing. If you're not sure how Medicare works with Advantage Plans and Supplemental Insurance, and whether a provider might take your coverage, you're not alone!
To make it easier, here's a basic description of Medicare coverage.
The 3 ways people have Medicare
1. Original Medicare Only: (The red, white and blue card.) No prior authorization is needed. The client pays 20% co-insurance for each visit.
Part A is for hospital services (typically Part A is free).
Part B is for outpatient medical services (has a monthly premium; currently in 2022 it is $170).
Part C is a private health plan like Medicare Advantage. Clients pay a monthly premium for Part B and care is managed by the private Advantage Plan.
Part D is for prescription drugs (it also has a monthly premium).
2. Medicare Advantage Plans: Takes the place of Parts A and B. Advantage Plans are sold by private insurance companies (ex: United, Secure Horizons, Anthem, Humana, etc.) to cover some of the out-of-pocket costs Medicare does not cover. The client receives an insurance card from the Advantage Plan, which is different than the red, white, and blue card. Client will always have Original Medicare "hidden" in the background, but the Medicare Advantage plan becomes the primary insurance and all billing is submitted through them.
May cover additional services like vision and dental.
Sometimes includes Medicare Part D (Prescriptions). But some Advantage Plans don't have drug coverage, so the enrollee would need to pick a separate Part D Plan.
Client would still pay a premium for Part B.
Client pays the private insurance copays for doctors and specialists.
No supplemental insurance plan can be added to an Advantage Plan.
3. Medicare Coverage Gap Plan (Supplemental Insurance/Medigap):
Private insurance supplement in addition to Medicare that the individual pays for on top of the Part B premium.
Supplemental plans do not have a network. If Medicare pays, then the supplemental insurance has to pay.
Medicare and paying for psychotherapy
If you have Original Medicare only: The therapist must be a Medicare provider (Licensed Social Worker or Licensed Psychologist) and the client would pay the 20% co-insurance for each visit.
Medicare Advantage Plan: The therapist must be in-network with the private insurance company that manages the Medicare Plan (ex: United, Anthem, etc.). The therapist does not have to be a Medicare provider, but must have the credentials to bill Medicare. A therapist must be an LCSW, PsyD, or PhD. The client pays the private insurance copay, often about $40-$50 (which is more than if they had just plain Medicare). Medicare later reimburses the private insurance companies.
Supplemental Insurance/Medigap Plan: The therapist must be a Medicare provider. Supplemental plans do not have networks. If Medicare pays for a service, then the supplemental plan must cover the remaining portion, regardless if the therapist accepts that particular insurance.
A note for providers: If a client says they have Medicare and Medicaid, it is quite possible they have Medicaid QMB. QMB is not regular Medicaid coverage. It only pays the Medicare premiums, it does not pay the provider. Please ask/clarify with your client.
Submitted by the Health District's Connections and Prescription Assistance programs
If you have questions about Medicare, we may be able to help. Call the Health District at 970-416-6519.
The UCHealth Aspen Club is also a good resource if you have Medicare questions. Call 970-495-8560 or go to uchealth.org/aspenclub.